Introduction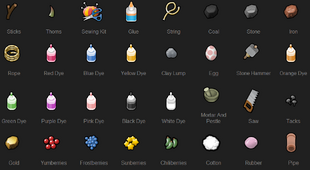 A Material is one of the critical parts of crafting. The other parts are Crafting Tool and Crafting Station. Materials can be found in Natural Mines or bought in Cubit Store. Most things in Cubic Castle World can be obtain by crafting the materials such as Furniture, Blocks, etc... (see Crafting page for complete recipe).
List of Material
If there is an incorrect material or something that we've missed, please leave a constructive and accurate comment. Use [CTRL+F] to find the material.
Blocks & Buildables
Raw Ingredients & Tools
Clothing
Most clothing can be obtained by purchasing it in the Cubit Store, but plain Pants and Shirts are craftable.
Gallery