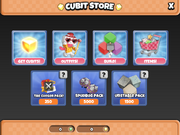 The Cubit Store is an interface where you can spend your hard-earned Cubits on a variety of items, including Castle Deeds, clothing, and other useful items. You can also purchase additional Cubits at the cost of real money.
Sections
Edit
Get Cubits! 
Outfits!

Critter Suit Pack 
Wings Pack
Accessories
Hats & Wigs Pack
Clothes Packs 

Builds!

Get Rooms!
Get Realms!
Recube!

Contains Recube Bin and recube-only items

Dungeon Pack
Scaffolding
Various packs of items or materials.

Items!

Realm Basics
Parkour
Spudbug Pack
Game
Pets
Castle Stamps
Foam Kit
Environments
Almighty Cube
Baleful Box
Clanstone
Door Stamps
Mannequins
Holla
Nametag
Official Paper
Nuke
Quest Pack
Slyme Pack
Security Pack
Wands
Flags
In the IOS/Android version, there's a "Free Cubits" option in "Get Cubits!" section.